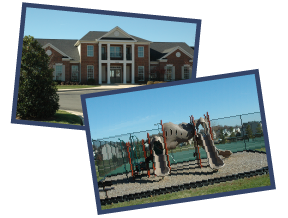 Hop Yard Farm is a great location for commuters looking to get more house for their money.
The community of Hop Yard Farm features…
The historic charm of Old Town Fredericksburg is minutes away. Here, you will discover unique restaurants, exciting boutiques and shops, entertainment and nationally known retailers surrounded by the largest collection of beautifully restored 18th buildings in America. Fredericksburg is also home to prestigious Mary Washington University where you can enjoy continuing education, cultural events and the largest shopping center on the east coast, Central Park, with more than 200 retailers .
Located 16 miles west of Dahlgren and 38 miles south of Quantico, home buyers can find just about anything they need.
Search through the listing of homes available in Hop Yard Farm by clicking the "view listings" button below to find your next home.